Central Florida Bass
Guide Services
Welcome to Jay's Bass Bustin' Guide Service.
We are the leaders in full time professional largemouth bass fishing. Our professional bass guides offer you four hour, six hour and eight hour bass fishing charters on all of the most popular Central Florida lakes and rivers.
No matter if you are a professional fisherman preparing for your next fishing tournament, or an individual looking for bass fishing excitement on the water during your Disney Vacation, Jays Bass Bustin Guide Service can take care of your needs. We can even help you with large groups, corporate outings, team building event, and large family events.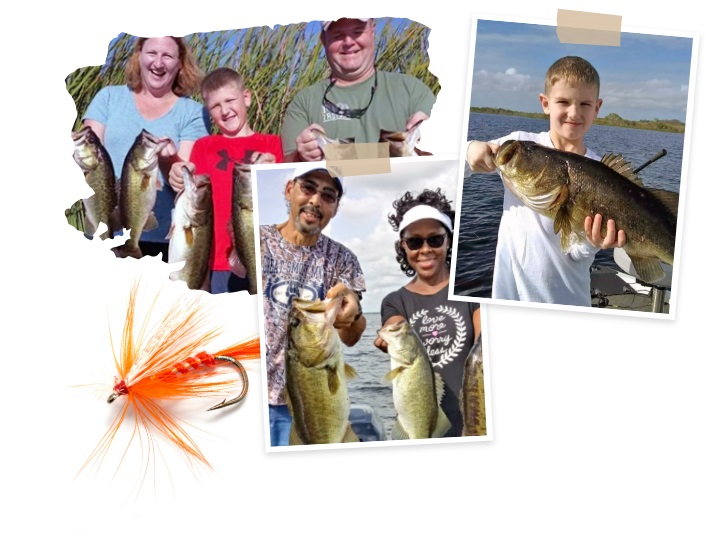 u.s. coast guard licensed


Second time fishing with Jay
Second time fishing with Jay and he's still got it. First trip was 5 years ago. Well that chance came along and guess what… Up at the crack of dawn for the early morning fishing session and I once again witnessed Jay display his remarkable knowledge of the lake. Standing on the edge of his boat catching bass when other boats around us (200ft away) were struggling. Again we were straight into the bass
Read complete review on tripadvisor


FAR FROM THE MADDENING CROWD!
If you are in the Orlando/Kissimmee/St.Cloud area, and want a peaceful, relaxing day of fishing (i.e.no Disney), call Jay and enjoy his excellent, humorous and professional guidance to bass fishing. My husband has been going with Jay for several years and this year was my first – what a wonderful experience. He does everything he can to ensure you catch some bass while enjoying the beautiful scenery. We will be back next year!!!
Read complete review on tripadvisor


Awesome bass fishing around Disney!!
I went out with jay for a morning trip on Aug 3rd. Jay is a class A bass guide. I have fished from Vermont all the way to Florida, and I have met a lot of fisherman and I can say that Jay is one of the nicest people and most helpful I have ever met. I will most definitely be calling him on all of my future trips to the Orlando area. I would recommend Jay's services to anyone, novice to pro, who wants a memorable experience.
Read complete review on tripadvisor